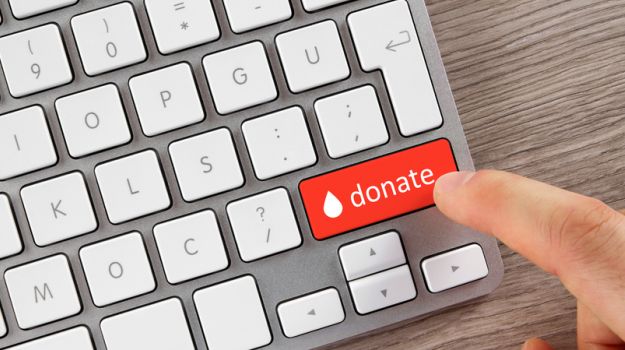 Blood donation is one of the biggest gifts you can ever give someone, and you know what the best part is? You don't even know whom you're sharing this wonderful token of health with. What else can be more selfless than giving out a part of yourself for the well-being of another? No matter how intimidating the thought of the whole process may be, blood donation is an act of absolute virtue. Every year, 14th June marks the annual World Blood Donor Day. It was established by the World Health Organisation back in 2004 to promote voluntary blood donations and to spread awareness on the importance of safe blood.
Of course we've got our share of phobias, on top of which pain is undesirable to all. Despite this, experts suggest blood donation not only as a deed of charity but also good for one's own health. One of the proven benefits of donating blood is a boost of new red blood cells that your body produces, regular donations can also aid in improving blood flow in the body. So finally, in case you have won over your fears and have resolved to become a donor, we suggest you keep a few things in mind to prep yourself before your very first blood donation.
According to the guidelines laid down by the American Red Cross, maintaining a healthy blood iron count is of the utmost importance in order to make blood donation possible. The medical practitioner, blood bank or the hospital will never go ahead with your blood transfusion in case your hemoglobin is not under the recommended level, ideally 12.5gm% minimum.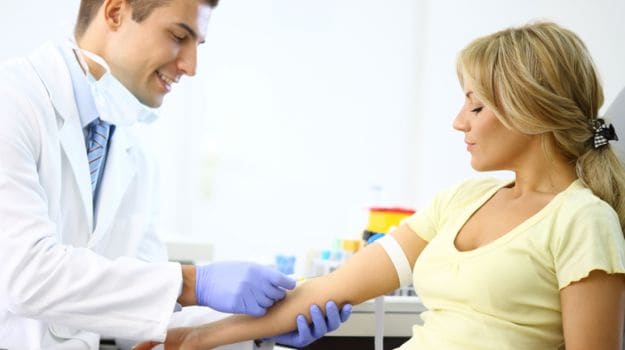 Prepping Up
Make sure you get a good night's sleep, the night before your donation. Loading up on ironrich foods like red meat, spinach or poultry is desirable. "Drink an extra 16 oz. of water or non-alcoholic fluids before the donation," suggests the American Red Cross. Make sure you are well fed before donation. Avoid greasy or fatty food items as they may hinder the efficacy of tests conducted on your blood. In case you are considering donating your platelets, do not consume aspirin or NSAIDs (non-steroidal anti-inflammatory drugs) at least a couple of days before donation.
"It is advisable to consume low-fat, healthy meals in the 24 hours before donation. Seven to nine hours of sleep is ideal. Stay hydrated and eat at least three hours prior to the transfusion. Make sure you keep your arm still while the transfusion takes place," shared Dr A K Singh, Consultant, Department of Pulmonology, Fortis Escorts Heart Hospital. Some other noteworthy points include the following:
1. Always keep track of the medications that you have taken in the past 48 hours, your examiner needs to know the same.
2. Do not eat right before donating. Smoking should be avoided at least an hour prior to donation.
3. Avoid alcohol at least a day before the donation is due.
4. "Do not donate if you are not feeling well for any reason. Do not donate on an empty stomach. Pregnant women should refrain from donating. Avoid mints, chewing gums or candies prior to donation. In case you have suffered from any recent needle stick injury or have got a tattoo done, do not attempt a donation," shared Dr. Singh.
5. If you are afraid of needles, just look away.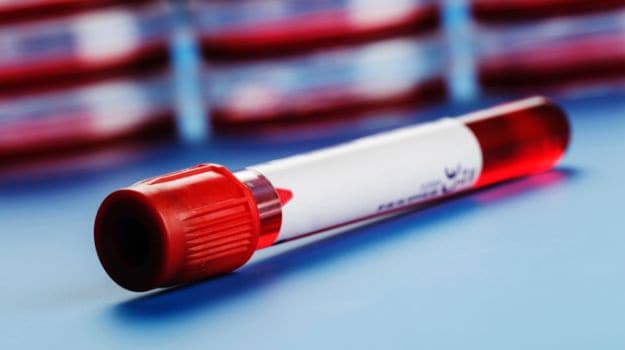 6. Listen to music, talk or simply watch television while the donation is underway.
7. Do not wear tight or uncomfortable clothing
8. Don't head back right after the transfusion is completed, consume your refreshments and wait for 15-20 minutes before you make a move.
9. Add nutritious, iron-rich food items in your diet before and after your donation.
10. "Always remember, do not go for blood donation if you have undergone –
– Platelet donation in a 7-day period (no more than 24 times in a rolling calendar year)
– Plasma donation within 28 days
– Red cells in conjunction with another component within 8 weeks
– Double red cell donation within 16 weeks
– Whole blood donors can donate within 56 days," concluded Dr. Singh.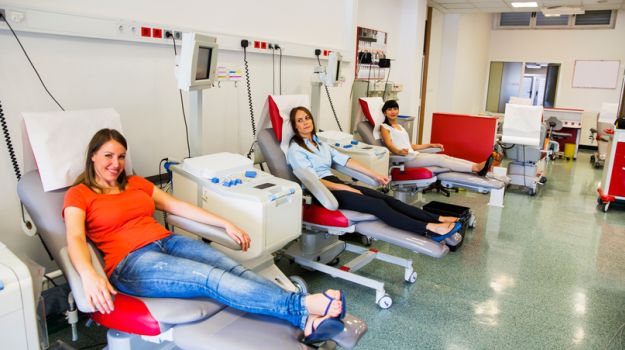 Once It's Done
As per the American Red Cross guidelines, "Drink an extra four (8 ounce) glasses of liquids and avoid alcohol for the next 24 hours." In case you feel faint or dizzy after your donation, sit and relax for a while and have some food. Make sure you refrain from any intense activity especially anything that involves lifting or application of pressure on your hand. Avoid driving in cases of feeling faint or dizzy. In case of bleeding after the donation, "Apply pressure to it and raise your arm straight up for about 5-10 minutes or until bleeding stops," says the American Red Cross. In case you get a bruise from the donation, apply cold compress or ice at regular intervals for a day. Next day onward, you can apply warm compress on the area to relieve the blood clot.
You medical examiner will conduct a few tests on you to determine your eligibility for the donation. These would simply involve a hemoglobin check, weight measurement, blood pressure and pulse test as well as body temperature monitoring. Several institutes follow their own standards to allow a person to donate blood, for an instance the American Red Cross requires women to be at least 5'5" in height weighing 150 lbs/68 kg. These standards may vary from one country to another. It takes at least a day for the body to recover back the lost plasma. New red cells are gained back in about a couple of months' time; this is exactly why you would not be allowed to donate again until at least 50 days have elapsed.
And most importantly – Feel good about yourself, you might just have saved a life or helped someone in getting better.