'Rescued 60 youth from militancy; bloodshed won't yield anything'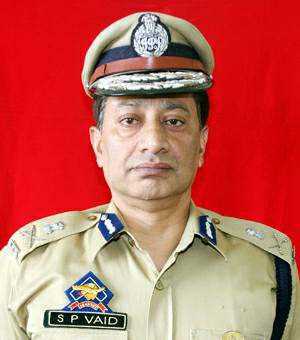 Director General of Police (DGP) Dr Shesh Paul Vaid on Monday said no militant is ready to become chief of Lashkar-e-Toiba in Kashmir after the killing of former head Abu Ismail in an encounter last week.
"I heard there is commander vacancy is open but no one is ready to take it," the DGP told reporters here at Dal Lake during a function organized by the police. He was responding to a question about the appointment of new LeT chief in Valley. The police chief appealed the militants to renounce path of violence and join mainstream while seeking support of parents and community leaders.
"Be it elders, religious leaders, parents or political leaders. I appeal all to make children understand what is good and bad for us and tread right path and live mission of the life that has been fixed by God. Bloodshed won't yield anything," he said. The DGP according to news agency GNS said that police have rescued 60 boys from militancy and counseled them.
"We are pulling out all those boys from militancy whose cases are brought into our notice because they are our kids and we don't want them to go on wrong path. The end of militants is bad and it hurts everyone, every citizen of J&K and India," said the DGP, adding that there are clear instructions to government forces to give chance to those militants who are ready to surrender without firing at them.
"The instructions are down the line and we have to give full chance to the one who wants leave gun and save his life…but he should not fire," DGP Vaid said, adding that attempts are being made to bring back youth into the mainstream. He said that the police and other forces are trying to engage youth so that they remain away from drugs and militancy.
Water sports festival "Jashan-E-Dal and Shikara Race – 2017" being organized by Jammu and Kashmir Police in the world famous Dal Lake, was declared open at a colourful function held at Nehru Park this afternoon. Various water sports events including Shikara Race will be organised during the 3-day festival.
Declaring open the festival, the DGP  Vaid said that the event is being held under Civic Action Programme with the aim to engaging the youth in healthy competitions of sports so that face of every youth shines with smiles. "We want peaceful atmosphere and these (sports) activities definitely contribute towards peace and I have no doubt about it," he said. (GNS)