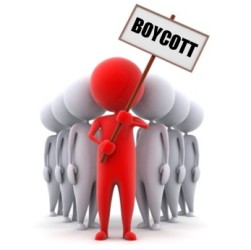 The current uprising has forced several workers from the mainstream parties to announce their resignations. The move comes days after Hurriyat had already warned of 'social boycott' with legislators, leaders and activists of pro-India parties.
As per the Hurriyat calendar, it has asked the people that a poster letter should be written on August 18 asking all legislators and workers of pro-India parties to resign from their positions and parties.
Now if one scan the local newspapers of the Valley from the last one week, on an average daily two party workers from the ruling PDP have announced their resignation from the party, citing the prevailing situation in Kashmir in which at least 58 people have been killed besides over 4000 have been injured.
Reminiscent of the 1990s, when almost all political activists across the Valley's political spectrum resorted to the same tactics, these resignations have now come from north, central to south Kashmir where these workers claim they dissociate with the mainstream parties and have no affiliation with them.
"I want to announce that I have resigned from the PDP. I have no further affiliation with this party. It is not suitable to be part of this party under the current situation," said a mainstream party activist, Waseem Lone.
Imran Ali Kuka of Abi Guzar too announced his resignation from the party this week. "I want to inform that I have resigned from the PDP Halka Lalchowk. I will not be part of its party activities. Whatever happened in the past, I apologized for that," he informed through a paid advertisement.
On Saturday, a PDP worker announced his resignation through an advertisement appeared in an English daily. "I Sheikh Fida Hussain, Block member of the PDP for Kund Block Qazigund do hereby resign from the post. The reason for this is the utter failure of the party to carry good governance and its recent role in the recent killings of people besides injuring to hundreds of youth."
A PDP worker from north Kashmir too published similar notification in a local newspaper on Thursday announcing resignation from the party and blaming it for its failure to stop the civilian killings.
A National Conference leader and the party's candidate against Chief Minister Mehbooba Mufti in the recent bypoll from Anantnag constituency, Iftikhar Hussain Misgar also quit mainstream politics and had joined an anti-India protest outside his residence last week of July.
"I do not need any security. I need the security of my own people," he had said while addressing a gathering in Anantnag. He was the first who quit mainstream party during the ongoing turmoil in Kashmir after Hurriyat Conference called for a social boycott of pro-India political leaders in Kashmir.